---

---
Tile Flooring
(800) 718-3806
---
Tile Flooring: Facts and Benefits
Tile flooring has been in use for thousands of years and remains the top choice for many in their kitchens, bathrooms, and even patios. Contemporary tile flooring is very similar to its ancient lineage, usually made from stone or ceramic material (though there are many other options available today) and shaped into a square mold so that they can fit together and be measured out to fit exactly. Natural stone tile flooring is shaped, as its name implies; naturally and therefore require extra planning to accommodate for various shapes and sizes.

Tile flooring is placed on a surface of mortar (a mixture of sand, cement, and latex) and the spaces in between each tile are filled with grout (a mixture similar to mortar). This allows the tile flooring to grip tightly to the ground and be "locked into" its designed placement. In addition to its stability, tile flooring also has tons of aesthetic potential. The tile flooring can be a variety of colors to match any decorative scheme. Tile flooring can also be modified and embellished with additional decorative tiles, alternating colors, and mosaic patterns, not to mention the aesthetic or functional patterns that tile flooring can be adorned with.
---
---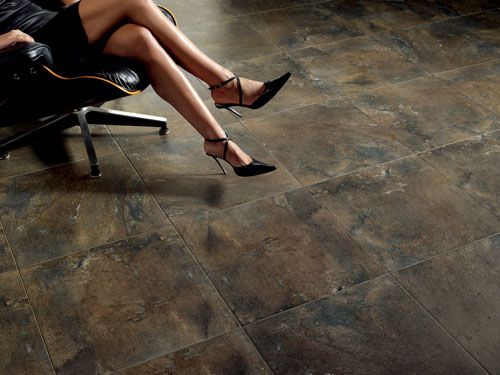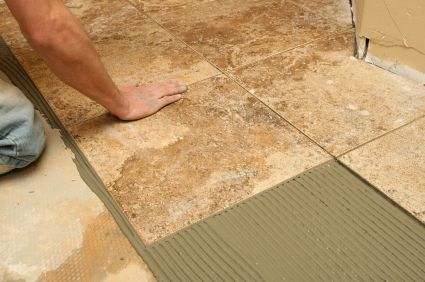 ---
Surely something so beautiful must require attentive care and maintenance, right? Well, tile flooring happens to be incredibly durable and low maintenance. The root of this durability stems from tile flooring's physical makeup. Ceramic and stone are nothing to shake a stick at, and are resistant to a litany of common household floor dangers. If sealed properly after installation, and dependent on which type of tile you have in place, tile flooring can resist burns, scratches, odors, dirt, stains and is so dense that water fails to penetrate and accumulate in the tile. This is what truly sets tile apart from lesser flooring options. Let's take, for example, a kitchen. Kitchens, already a very popular placement for tile flooring, are a dangerous place for delicate items.
There is usually constant movement, crowding, and use of oils and lots of heat, both of which can easily damage a floor not up to the task. In fact, where do we usually store delicate items in a kitchen? Behind the securely closed door of cabinets! We don't want to risk anything breaking in all the commotion, so we put it out of harm's way. Unfortunately, the floor is going to be central stage for anything that can and will go bad in a kitchen, or any room for that matter. Do boxing rings, football fields, or basketball courts use less than stellar equipment in their construction? I don't think so. Tile flooring is up to the challenge. With tile flooring, you are working with a product designed from the ground up to withstand all sorts of pressures and mishaps without missing a beat.

There is a reason tile flooring has existed for so long. In the ruins of the ancient Eastern and Western world, we marvel at the unrivaled art and beauty ancient cultures used these tiles to create. Not to mention that their tile flooring has lasted long enough for us to have the opportunity to see it! That is the finest testament to tile flooring I can think of, and the modern day product is only getting better.
---
Tile Flooring